Michael Luria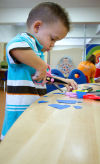 On the heels of Mother's Day festivities last weekend, it's time to start thinking about giving dads their due. Volunteers with Children's Museum Tucson suggest you consider the gift of play at the 10th Annual Father's Day Weekend Golf Classic.

Tucson has spent years promoting itself as a travel destination with typical images of saguaros, sunsets and golf courses - much like Phoenix and Scottsdale.

"I think this destination is in a position where all the stars have aligned," says Peter Yesawich, vice chairman of MMGY Global, speaking of Tucson's potential for tourism.
Follow the Arizona Daily Star