Michael M. Crow

Ann Weaver Hart given extra year through June 2017.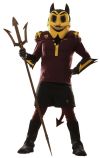 Arizona State University administrators are getting backlash from students and alumni who dislike the new version of Sparky the Sun Devil, the school's costumed mascot.
Follow the Arizona Daily Star
Vote! Today's Poll
Loading…
What is the most important issue for you in the 2016 Presidential Election?
Sign up for Tucson.com e-mail newsletters