Misty May-treanor
In the lobby of the Ritz-Carlton, Dove Mountain, three-time Olympic gold medalist Kerri Walsh walks past a guest in swim gear, who stops and does a not-so-subtle double-take.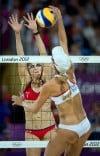 USA vs. USA: Kerri Walsh Jennings, left, blocks a spike from Jennifer Kessy during the gold medal match. "They're the best team of all time," silver medalist Kessy said.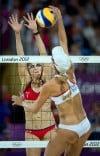 LONDON - Misty May-Treanor danced on the sand and then off it, taking a victory lap around the court before leaving Horse Guards Parade with Kerri Walsh Jennings as three-time Olympic beach volleyball gold medalists.
Follow the Arizona Daily Star