Moises Orozco

With the exception of perfecting the turkey, Thanksgiving is a no-pressure holiday. No gifts to give, no expectations dashed, nothing to do but glory in family and friends.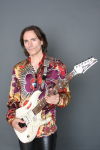 Guitar virtuoso sells home, plays Tucson

Many bones may be broken in Tucson artist Moises Orozco's face, but the positive attitude and spirit for which he is known remains intact.
Follow the Arizona Daily Star
Sign up for Tucson.com e-mail newsletters