Nanette Warner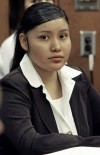 A 23-year-old former University of Arizona student serving a natural life sentence will soon be able to argue for a chance at parole thanks to an Arizona Court of Appeals decision.

When now-retired Judge Nanette Warner sentenced Galareka Harrison to a natural life sentence for killing her University of Arizona dormmmate, she said she would've given the student a shot at parole if Harrison had been abused as a child or had a significant mental problem.
Judge Scott Rash doesn't think convicted murderer Galareka Harrison was denied adequate representation at trial, but he hasn't made up his mind about her sentencing.
Follow the Arizona Daily Star
Vote! Today's Poll
Loading…
With the pool of presidential candidates narrowing, which front-runner do you support?
Sign up for Tucson.com e-mail newsletters