Natalie Gulbis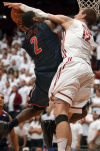 In the lobby of The Ritz-Carlton, Dove Mountain, three-time Olympic gold medalist Kerri Walsh Jennings walks past a guest in swim gear, who stops and does a not-so-subtle double take.
Follow the Arizona Daily Star
Vote! Today's Poll
Loading…
What is the most important issue for you in the 2016 Presidential Election?
Sign up for Tucson.com e-mail newsletters