National Contest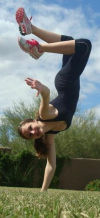 Sabino High School incoming junior Jordyn Burggaller is one of 10 semifinalists who have a shot at starring in a Dr Pepper commercial that will feature a person with a special talent.

Caption unavailable

A Tucson teen is hoping to jump rope her way onto national TV to star in a commercial for Dr Pepper.
Follow the Arizona Daily Star
Vote! Today's Poll
Loading…
What is the most important issue for you in the 2016 Presidential Election?
Sign up for Tucson.com e-mail newsletters