Oregon Ducks Football

Chip Kelly led Oregon to a 46-7 record in four seasons. "It's an exciting time and it's a sad time," he said, "saying goodbye to people you love."

PHILADELPHIA - In the end, Chip Kelly chose the NFL, giving the Eagles their guy.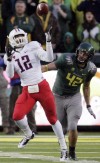 EUGENE, Ore. - To take down the nation's No. 1, the saying goes, you need to play 60 minutes of stellar football and get a bit lucky.
Follow the Arizona Daily Star