Outside Magazine

Along with Tucson's 700 miles of bike lanes, Outside magazine said it was looking for "interesting topography," and "great places to gather for a post-ride drink." This cyclist was on Mountain Avenue north of Speedway on Wednesday.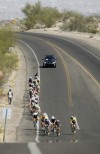 Bicyclists approached the starting line during the last day of the three-day, 25th annual Tucson Bicycle Classic in March 2011.

Many avid bicyclists will tell you that the Tucson area is a pedaler's paradise. Now a major national magazine has emphasized that point. Tucson has been named No. 1 on a list of the nation's "Top 10 Bike Towns" by Outside magazine.
Follow the Arizona Daily Star
Sign up for Tucson.com e-mail newsletters