Packrat

Coyotes eat pack rats, and any poison already in their prey will end up in the predator.

Desert dwellers - whether they have two legs or four, are feathered or scaly, live in dens or condos - all manage to co-exist most of the time.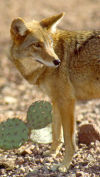 Coyotes feed on pack rats as do mountain lions and bobcats. Snakes also can help keep pack rats off your property.
Follow the Arizona Daily Star