Palo Verde Soccer

Titans, Panthers collide in state quarterfinals for third straight season.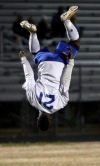 After scoring on a header to give Palo Verde a two-goal lead in the second half, junior Bwaleso Igulu celebrated with a cool back flip.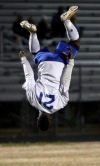 Palo Verde is set to enter the Division III boys soccer state tournament on a high note after shutting out Catalina 2-0 at home Tuesday night, dashing the Trojans' hopes of their own playoff berth in the final week of the regular season.
Follow the Arizona Daily Star
Sign up for Tucson.com e-mail newsletters