Pat Wood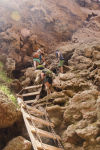 The scariest part of the trip was this early morning descent to Mooney Falls. Hikers have to squeeze through two narrow tunnels built into the cliff, then descend wooden ladders.

These features were created by carbonate-laden mists from Upper Navajo Falls.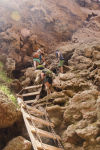 Editor's note: Bob Ring's "better half," Pat Wood, fills in this week with a column about her recent "trip of a lifetime."
Follow the Arizona Daily Star