Percival Lowell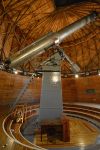 The 24-inch Clark refracting telescope found "canals" on Mars and the first evidence of an expanding universe.

Arizona's oldest observatory has published its first scientific results from its newest telescope.
Lowell Observatory, Arizona's oldest center for astronomy, is launching a campaign to recruit an army of benefactors to repair the telescope and dome from which Percival Lowell discovered what he said were ancient canals on Mars.
Follow the Arizona Daily Star
Sign up for Tucson.com e-mail newsletters