Peter Eckerstrom

Ruling says Arizona judges not obliged to enforce federal laws.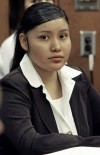 A 23-year-old former University of Arizona student serving a natural life sentence will soon be able to argue for a chance at parole thanks to an Arizona Court of Appeals decision.

Pamela Phillips' defense attorneys believe their client remains mentally unfit to stand trial and would like her to be medicated, but the judge presiding over her case strongly disagrees.
Follow the Arizona Daily Star
Sign up for Tucson.com e-mail newsletters