Phoenix Detective

PHOENIX - Debra Jean Milke was once one of the most reviled mothers around, convicted of dressing her 4-year-old son in his favorite outfit and sending him off to visit a mall Santa Claus with two men who shot the boy execution-style in the Arizona desert.

Debra Jean Milke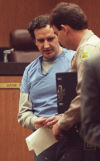 James Styers, former roommate of Debra Jean Milke, was sentenced to death on Dec. 14, 1990. Styers and Roger Scott are both on death row at a prison in Florence.
Follow the Arizona Daily Star
Vote! Today's Poll
Loading…
What is the most important issue for you in the 2016 Presidential Election?
Sign up for Tucson.com e-mail newsletters