Photograph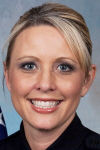 The demotion of a former Tucson police spokeswoman after she took provocative videos and photos of herself and sent them to a subordinate officer she was in a relationship with has been reversed by a Pima County Superior Court judge.

Actor Neil Patrick Harris poses for a photo at the world premiere of "The Smurfs 2" at the Regency Village Theatre on Sunday, July 28, 2013 in Los Angeles. (Photo by John Shearer/Invision/AP)

Arizona Game and Fish Department officials say outside experts agree with state biologists that a hunter's trail camera captured an image of a jaguar late last month.
Follow the Arizona Daily Star
Sign up for Tucson.com e-mail newsletters