Photonics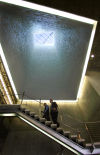 A new manufacturing institute will help to improve imaging, sensing and transmission of information.

Tucson could "get a piece" of new Photonics Manufacturing Institute.
The "average person, or average congressman" doesn't know much about photonics, according to a coalition of industry and academic groups pushing a National Photonics Initiative.
Follow the Arizona Daily Star
Vote! Today's Poll
Loading…
With the pool of presidential candidates narrowing, which front-runner do you support?
Sign up for Tucson.com e-mail newsletters