Physical Fitness
My boyfriend and I are in our early 20s, and have been together for about 2½ years. In recent months we've talked of "being together for the long haul."The problem is this: While I see the value in very healthy eating and daily exercise, he isn't quite on the same page.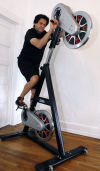 Some 20 years after getting the idea for a new kind of workout bike, Tucson native Marko Hansen has brought his Cycle Climber to market — with an assist from his beloved Arizona Wildcats.
Two Tucson groups and a third from southern Arizona have been awarded federal funds to help students make healthier choices.
Follow the Arizona Daily Star