Pima County Parks And Rec

Aaron Chambers, manager of Pima County's native plant nursery, with "tall pots." The sections of PVC pipe encourage roots to grow down, not out, promoting faster growth.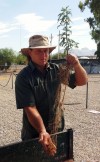 Caption unavailable

Everyone's heard the saying "Bigger is better." Bigger cars, bigger houses, bigger everything. But bigger flowerpots? That's a new one Pima County is trying on for size.
Follow the Arizona Daily Star
Sign up for Tucson.com e-mail newsletters