Prescription Medication

A new Pima County coalition is targeting abuse of painkillers.
Drug poisoning now exceeds car accidents as the No. 1 cause of unintentional death in Arizona.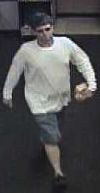 Tucson police are looking for a man who has committed at least three armed robberies of pharmacies inside grocery stores since April 17.
Follow the Arizona Daily Star
Vote! Today's Poll
Loading…
What is the most important issue for you in the 2016 Presidential Election?
Sign up for Tucson.com e-mail newsletters