Prince William Duke Of Cambridge

After the baby arrives, mention the the birth and get a buck off a pint.

LONDON — Prince William and his wife are expecting their first child,  palace officials say.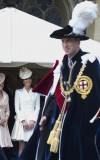 Prince William turned 30 Thursday, marking the milestone in private with his wife, the former Kate Middleton, and perhaps some close friends, the palace said.
Follow the Arizona Daily Star
Vote! Today's Poll
Loading…
What is the most important issue for you in the 2016 Presidential Election?
Sign up for Tucson.com e-mail newsletters