Pro Basketball Scores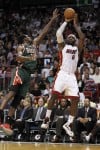 Miami's LeBron James shoots over Milwaukee's Ekpe Udoh during the first half. James scored 28 points, Dwyane Wade matched that, and Chris Bosh added 24.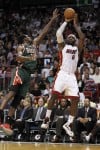 MIAMI - LeBron James had 28 points and 10 rebounds, Dwyane Wade added 28 more points, and the Miami Heat scored the first six points of overtime on the way to beating the Milwaukee Bucks 113-106 on Wednesday night.
Follow the Arizona Daily Star
Sign up for Tucson.com e-mail newsletters