Prosecutor Of The Drug-plagued State Of Sinaloa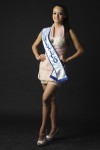 CULIACAN, Mexico —A 20-year-old state beauty queen has been killed in northern Mexico during a running gun battle between soldiers and the gang of drug traffickers she was traveling with, officials say.
Follow the Arizona Daily Star
Vote! Today's Poll
Loading…
What is the most important issue for you in the 2016 Presidential Election?
Sign up for Tucson.com e-mail newsletters