Public Policy Polling
Arizona's senior senator is not doing well at the polls.

A new poll shows Republican Jeff Flake with a one-point percentage lead on Democrat Richard Carmona in the U.S. Senate race.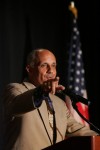 New poll shows Democrat Richard Carmona and Republican Jeff Flake tied in U.S. Senate race.
Follow the Arizona Daily Star
Vote! Today's Poll
Loading…
With the pool of presidential candidates narrowing, which front-runner do you support?
Sign up for Tucson.com e-mail newsletters