Ray Cooney

Let's get this straight: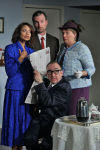 Debbie Runge, standing left, Brian Wees, Martie van der Voort and Keith Wick, seated, tap their inner silliness in Live Theatre Workshop's production of "Two Into One."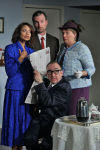 Have no doubts about it: Ray Cooney's "Two Into One" is sublimely silly.
Follow the Arizona Daily Star
Vote! Today's Poll
Loading…
What is the most important issue for you in the 2016 Presidential Election?
Sign up for Tucson.com e-mail newsletters