Republican Primary Election

Tobin had 35 percent of the votes reported so far.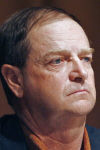 Arizona Congressional District 1 candidate Gary Kiehne apologized for a comment he made at a Republican primary debate in Florence on Saturday.

Underdog Republican candidate Jaime Vasquez said he won't run for Congress in District 3 this year. 
Follow the Arizona Daily Star
Vote! Today's Poll
Loading…
What is the most important issue for you in the 2016 Presidential Election?
Sign up for Tucson.com e-mail newsletters