Richard Wheatley
A proposed 59-mile pipeline carrying natural gas from the Tucson area to Sasabe would not threaten endangered wildlife in Altar Valley, but does threaten the habitat of the endangered Pima pineapple cactus.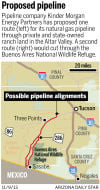 The proposed Kinder Morgan Sierrita pipeline could cost taxpayers $11.2 million in its first year of operation.
Follow the Arizona Daily Star
Vote! Today's Poll
Loading…
What is the most important issue for you in the 2016 Presidential Election?
Sign up for Tucson.com e-mail newsletters