Richardson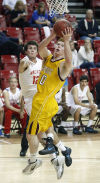 An all-city basketball player at Salpointe, Denny (in yellow) has started two games early this season for Division I Lipscomb University.
A woman who died after her car crashed through a guardrail on Tucson's southwest side Sunday morning has been identified at Minnie Richardson.
Follow the Arizona Daily Star
Vote! Today's Poll
Loading…
With the pool of presidential candidates narrowing, which front-runner do you support?
Sign up for Tucson.com e-mail newsletters