Round Of 32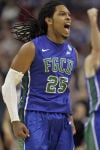 Florida Gulf Coast guard Sherwood Brown led all players with 24 points in Friday's upset of No. 2 Georgetown.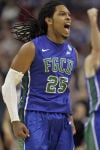 PHILADELPHIA - Build a state university in the swamplands of South Florida. Move the athletic program to the highest level in college sports and hire a self-made millionaire basketball coach. When his team makes the NCAA tournament, say in Year 2 of its eligibility, beat a tradition-rich opp…
Follow the Arizona Daily Star
Vote! Today's Poll
Loading…
What is the most important issue for you in the 2016 Presidential Election?
Sign up for Tucson.com e-mail newsletters