Science Fiction Convention
Two major conventions, one established and the other still growing, will take place in Tucson next month.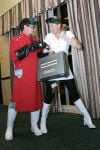 When James Corrick launched the first TusCon Science Fiction Convention with Carol DePriest in 1974, 2013 was a year straight out of an Arthur C. Clarke novel.

Last year's Tucson Comic-Con had founder Michael Olivares wishing he was Dr. Octopus.
Follow the Arizona Daily Star
Sign up for Tucson.com e-mail newsletters