Sexy Girls

The newest swimwear fashions showed a wild side during the Mercedes-Benz Fashion Week Swim 2014, which ended Monday in Miami Beach. Take a look at how much skin is left to tan with the swimwear designers have fashioned.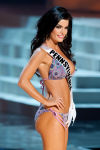 A federal judge in New York has upheld an arbitrator's ruling that a Pennsylvania beauty queen must pay the Miss USA pageant $5 million for defaming Donald Trump's pageant organization. Sheena Monnin resigned as Miss Pennsylvania last year, saying the Miss USA contest in 2012 was rigged. Sh…

Miss Connecticut, Erin Brady, was the winner of the Miss USA title Sunday in Las Vegas. Here are photos of her and many of the other contestants in the both the swimsuit competition and the walk down the runway in evening gowns. Do you think the judges got it right?
Follow the Arizona Daily Star
Vote! Today's Poll
Loading…
With the pool of presidential candidates narrowing, which front-runner do you support?
Sign up for Tucson.com e-mail newsletters