Sheryll Mcmanus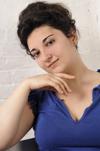 Sheryl McManus calls in sick; UA grad slips in to take her place.

The Arizona Senior Academy kicks off its 2014 concert season with a piano recital by Tucson resident Sheryll McManus at 11:30 a.m. Tuesday featuring the music of Beethoven, Schumann, Chopin, Brahms and Debussy.
Follow the Arizona Daily Star
Vote! Today's Poll
Loading…
What is the most important issue for you in the 2016 Presidential Election?
Sign up for Tucson.com e-mail newsletters