Silo

This Titan 2 silo, now a museum, is the only one of the original 18 around Tucson that remains. It's near Sahuarita.

Workers at a northwest-side cement plant were exposed to cement powder Monday morning when a silo valve malfunctioned and dumped the material onto them.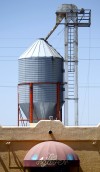 A metal grain silo and elevator stand on the northeast end of Los Portales restaurant on South Sixth Avenue — pieces of historic machinery that owner Ricardo Cazares has no intent of tearing down.
Follow the Arizona Daily Star
Vote! Today's Poll
Loading…
What is the most important issue for you in the 2016 Presidential Election?
Sign up for Tucson.com e-mail newsletters