Skywalk
FLAGSTAFF - U.S. Rep. Ann Kirkpatrick asked federal officials Friday to help an Arizona American Indian tribe with plans to build a "bypass" road to the Grand Canyon Skywalk amid an ongoing dispute with a rancher and a recent closure of a private road.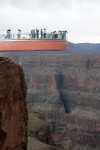 The 2007 First Walk event at the Grand Canyon inaugurated the Skywalk on the Hualapai Indian Reservation.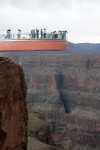 SAN FRANCISCO - The jurisdiction of a Native American tribal court was challenged Friday by the developer of a popular glass bridge over the Grand Canyon who has been locked in a multimillion-dollar contract dispute with an Arizona-based tribe.
Follow the Arizona Daily Star
Vote! Today's Poll
Loading…
With the pool of presidential candidates narrowing, which front-runner do you support?
Sign up for Tucson.com e-mail newsletters