Smokestack

From left to right are the laundry room, power plant and quartermaster building on Alcatraz Island, shown Oct. 20, 1933 in San Francisco. (AP Photo/Ernest King)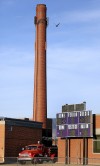 Although Rincon High School Principal Catherine Comstock doesn't like to think of her school as odd, it's tough to deny its quirks.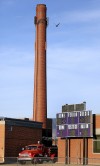 The smokestack at Rincon/University High School is the school's identifying landmark. The smokestack is believed to be part of an incinerator that was once used to burn the school's garbage.
Follow the Arizona Daily Star
Vote! Today's Poll
Loading…
With the pool of presidential candidates narrowing, which front-runner do you support?
Sign up for Tucson.com e-mail newsletters