Spica

Mercury is reasonably bright, but difficult to see so close to the sun.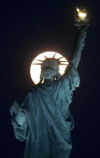 If you can spell Zubenelgenubi you have arrived as an amateur astronomer.
The moon is always impressive, whether viewed with the naked eye or with binoculars or a small telescope. It constantly acts as a pointer to other celestial objects of interest.
Follow the Arizona Daily Star
Sign up for Tucson.com e-mail newsletters