Stephanie Grisham

Ruling won't by challenged by the state.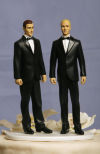 Ruling by 9th Circuit sets tone for states in the region. Appeal possible.

A City Council in a southern Arizona community that had been threatened with a lawsuit by the state Attorney General's office for a civil union ordinance it adopted has voted to rewrite the law to take out parts that apparently run afoul of a state ban on same-sex marriage.
Follow the Arizona Daily Star