The Grill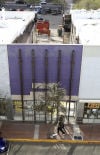 A year after a fire demolished a downtown building, it remains vacant. Its back wall — demolished shortly after the January 2013 blaze — is still laid bare to vagrants and vandalism.

Fire crews use aerial ladders to fight the blaze that damaged the once-popular downtown hangout called The Grill. The diner closed in 2011.

Part of a historic downtown building could be demolished today after it was damaged in an early morning fire on New Year's Day.
Follow the Arizona Daily Star
Sign up for Tucson.com e-mail newsletters