The Industry

Joe Danjou of Sam Levitz Furniture brings in new chairs and a sofa for the waiting room for The Industry Hair Studio, 4045 E. Broadway, which is to open later this month. The 7,600-square-foot facility will be home to stylists, barbers, facialists, manicurists, a tattoo artist and a massage …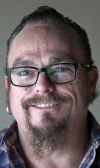 The Industry Hair Studio owner and stylist

After more than 30 years of experience working as a stylist, Greg Yedding is rebranding his hair salon as a studio in an effort to help cosmeticians break into the industry.
Follow the Arizona Daily Star
Vote! Today's Poll
Loading…
What is the most important issue for you in the 2016 Presidential Election?
Sign up for Tucson.com e-mail newsletters