The Oprah Winfrey Show
AUSTIN, Texas — Lance Armstrong confessed to Oprah Winfrey during an interview Monday that he used performance-enhancing drugs to win the Tour de France, a person familiar with the situation says.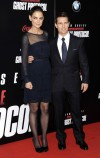 NEW YORK — Tom Cruise and Katie Homes are calling it quits after five years of marriage.
Follow the Arizona Daily Star
Vote! Today's Poll
Loading…
What is the most important issue for you in the 2016 Presidential Election?
Sign up for Tucson.com e-mail newsletters