Therapy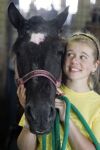 Horses are still a part of our lives, from horses that provide comfort to military families to ones that work with prison cowboys. We race them, we pamper them and we love them.

The uber luxurious Miraval Resort & Spa and resort north of Tucson was the subject of a travel article in USA Today this week.
A Tucson construction worker who claims he can cure gynecological cancers by treating women with ozone was found guilty of practicing without a license, a misdemeanor, Friday, but the jury deadlocked on whether he was guilty of the felony fraud and illegally conducting an enterprise charges.
Follow the Arizona Daily Star
Vote! Today's Poll
Loading…
With the pool of presidential candidates narrowing, which front-runner do you support?
Sign up for Tucson.com e-mail newsletters