Tucson Attorney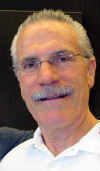 The lawsuit was filed by the family of Dr. Kenneth Litwack.
A Tucson attorney has been put on probation for two years by the Arizona Supreme Court for violating rules of professional conduct, documents show.
A Tucson bankruptcy attorney was suspended from practicing law for 60 days and placed on two years' probation for violating the state's rules of professional conduct.
Follow the Arizona Daily Star
Vote! Today's Poll
Loading…
With the pool of presidential candidates narrowing, which front-runner do you support?
Sign up for Tucson.com e-mail newsletters