Tucson Handweavers & Spinners Guild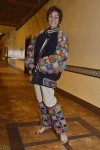 Two years ago at this time I was counting teapots and tea cozies for Pat, my better half, who was helping her weaving buddies get ready for their biennial fashion show and luncheon.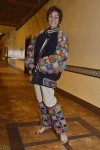 Lynn Davis models a ski ensemble by Pinki Nutter at the 2011 guild event.

The luncheon will include custom-made centerpieces made from desert materials, such as "Desert Cowboy" by Suzanne Guilbeault.
Follow the Arizona Daily Star
Vote! Today's Poll
Loading…
What is the most important issue for you in the 2016 Presidential Election?
Sign up for Tucson.com e-mail newsletters