Tucson Handweavers & Spinners Guild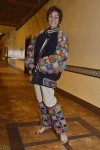 Two years ago at this time I was counting teapots and tea cozies for Pat, my better half, who was helping her weaving buddies get ready for their biennial fashion show and luncheon.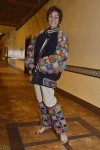 Lynn Davis models a ski ensemble by Pinki Nutter at the 2011 guild event.

The luncheon will include custom-made centerpieces made from desert materials, such as "Desert Cowboy" by Suzanne Guilbeault.
Follow the Arizona Daily Star