Tucson Street Name Origins

In 1862, Maj. David Fergusson of the Union Army commissioned a survey of the little sun-baked adobe town of Tucson.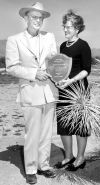 The streets of the Desert Palms Park subdivision on Tucson's east side are named for people and places in Colombia, where the neighborhood's developer spent much of his early career.
Follow the Arizona Daily Star
Vote! Today's Poll
Loading…
With the pool of presidential candidates narrowing, which front-runner do you support?
Sign up for Tucson.com e-mail newsletters