Tucson's Plaza Palomino Remodeled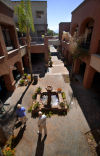 The newly renovated and remodeled Plaza Palomino, at 2990 N. Swan Road, boasts a courtyard and fountain. Shops and offices surround the courtyard, where events are often held.

Part of the draw for the merchants is the central location at North Swan and East Fort Lowell roads.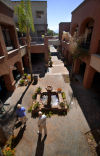 Upscale shopping destination Plaza Palomino will celebrate a grand reopening today and Saturday after a change in ownership and almost a year of renovations costing more than $5 million.
Follow the Arizona Daily Star
Vote! Today's Poll
Loading…
What is the most important issue for you in the 2016 Presidential Election?
Sign up for Tucson.com e-mail newsletters