Tucson-based Eegee's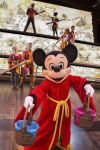 Prices for a day with Mickey Mouse have gone up $5 - that means adults now pay $92 and children cost $87 at Disneyland.

Dunkin' Donuts' new "Glazed Doughnut Breakfast Sandwich" has eggs, bacon.
Follow the Arizona Daily Star
Vote! Today's Poll
Loading…
With the pool of presidential candidates narrowing, which front-runner do you support?
Sign up for Tucson.com e-mail newsletters