Twitter Music App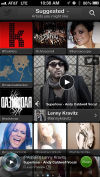 An iPhone shows the new Twitter music app, which uses tweets and other Twitter activity to detect the most popular tracks and emerging artists.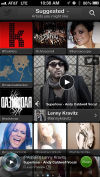 Twitter has launched a service that lets people find music they like and tweet songs from iTunes, Spotify and Rdio.
Follow the Arizona Daily Star
Vote! Today's Poll
Loading…
With the pool of presidential candidates narrowing, which front-runner do you support?
Sign up for Tucson.com e-mail newsletters