U.s.-mexico Border

The tunnel stopped at the remediation site of a previously-discovered tunnel.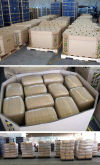 A Mexican man was arrested Wednesday at the Port of Nogales for attempting to smuggle more than 8,000 pounds of marijuana into the United States.

Five people were arrested in separate weekend smuggling attempts involving local residents and Mexican nationals at the Nogales port of entry, authorities said.

Follow the Arizona Daily Star
Vote! Today's Poll
Loading…
With the pool of presidential candidates narrowing, which front-runner do you support?
Sign up for Tucson.com e-mail newsletters