Veterans Day Parade

It's the 95th consecutive observance of local celebration thanking military members.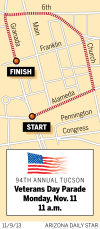 The theme of the 94th annual Tucson Veterans Day Parade is honoring veterans home and away, event organizers say.
The annual downtown Veterans Day Parade has a new route this year.
Follow the Arizona Daily Star
Vote! Today's Poll
Loading…
With the pool of presidential candidates narrowing, which front-runner do you support?
Sign up for Tucson.com e-mail newsletters