Western Conference Playoffs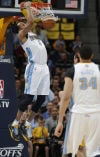 Denver's Andre Iguodala, a former Wildcat, slams one in against Golden State. Iguodala led the Nuggets with 25 points, 12 rebounds and 7 assists.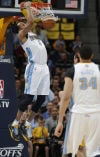 DENVER - Kenneth Faried put his foot down 48 hours after putting his size-16 sneaker through the wall in the visiting locker room in Oakland, sparking a debate about dirty play.
LOS ANGELES - Zach Randolph scored 10 of his 25 points in the fourth quarter and the Memphis Grizzlies capitalized on Blake Griffin's ankle injury to beat the Los Angeles Clippers 103-93 on Tuesday night, taking a 3-2 lead in their first-round playoff series.
Follow the Arizona Daily Star
Vote! Today's Poll
Loading…
With the pool of presidential candidates narrowing, which front-runner do you support?
Sign up for Tucson.com e-mail newsletters